Background
Everybody in Smoke Creek grew up with folk and old time music.

Music was a integral part of Mike and Jim's upbringing.
Their mother, Isabel, knew countless vocals ranging from Gilbert & Sullivan to novelty songs from the 20s and 30s. Their sister, Mary Jo Murray, of Helena, Montana, sings and plays a wide variety of instruments from piano to guitar to lute. Their brother, the late John Murray, was a top-notch flat-pick guitar picker who also did some banjo. He introduced Mike and Jim to the New Lost City Ramblers in the early sixties.

Their dad was an old-time fiddler in Eastern Montana from the 1920's through the 1940's.

Mick Murray died in 1981 and John in 1987.

Jim played electric bass in the Froid, Montana, high school band in the good old days and has played six and 12-string guitar since he was a little kid. Everything he plays well he owes to his older brother Mike. Ha Ha.

We think the pictures of Mick Murray and left, of Mike, Mick Murray and Jim, were taken about 1973. The group photo has faded quite a bit. We were probably making Dad play Kingston Trio songs.

Mike took up guitar in 1962, after having a miserable time with the tenor banjo. He picked up the five string banjo in 1987, at the urging of Jim Bicknell, and it's been downhill ever since. He's taken workshops from (or at least, watched slack jawed) A.C. Overton, Will Keys, Clyde Troxell and Marvin Gaster. Can you guess, he plays mostly two-finger?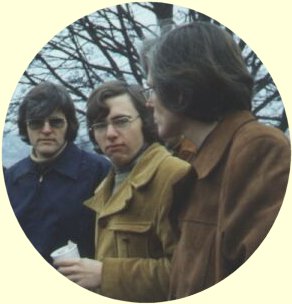 One of the original members of the group, Susan Ellis, spent childhood weekends at various folk festivals and summers at California's Sweet's Mill. Sue studied viola as a child, and was the only member of Smoke Creek who could read music. Having someone around who can sight-read was nice! We miss her. She took up the fiddle in 1991, and has always played a certain amount of guitar. She's a graduate of the Canote fiddle class.